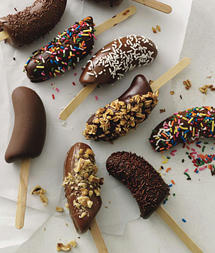 Arrested-Development-Menu-and-Party-PlanThe Epicurious staff can barely contain its excitement for the return of Arrested Development and to celebrate this momentous moment in television history, we've created a Bluth-themed menu and party plan. Obviously, we had to include frozen bananas (Bluth's Original Frozen Banana Stand just went on tour), but the culinary inspirations don't stop there. Our menu also features popcorn for Oscar and Buster's "Pop Secret" moment, veal marsala in honor of Ann Veal and also George Sr.'s hot-tub dinners, plus fried corn cakes, our take on the infamous Cornballers. Complete the feast with plenty of vodka, white wine, and unlimited juice
Cloud Hosting
, preferably of the juice-box variety.
In addition to the menu, we also let the Bluth family's dysfunction dictate a few party ideas. We recommend a magic show, mother-and-son duets, and lots of chicken dancing
Payroll Outsourcing Services
.
So pop a Teamosil, and tune in to see what the Bluth family has been up to for the last seven years
DSE Mock
.
PR