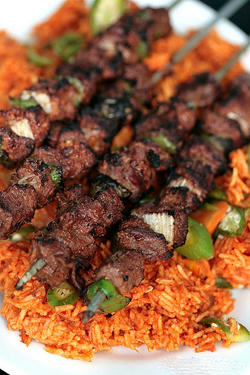 As you've probably guessed I'm back in Ghana. And ever since I've gotten here, all i want to eat is the local cuisine. Been away for too long, and had an overdose of the Desi Indian food. Knowing me n how quickly i get bored of things its not a surprise that when I'm here, i am craving Honkie food, n when in Hong Kong, i miss the Indian stuff, n when in India I'm ready to run away n get back here ! Well for now, the new thing with me is I absolutely cant stand anything sweet. I've just been binging on all things spicy, salty n sour ! Shocking ain't it ? Never thought you'd hear that from me, but its true. I think the next couple of posts will be about everything that's not sweet. Hmmm … so lets get started with today's special. This was lunch … Joll Of Rice n Beef Kebabs. Joll of Rice is common throughout West Africa, but its origin lies in Ghana. Its a very aromatic and flavourful one pot rice meal. Its great on its own or even when accompanied with grilled meats. You can have a veggie, chicken or meat version of it. For the benefit of my vegetarian friend I've made a veggie one today, but to make it non veg, just add strips or tiny cubes of your favourite meat in there.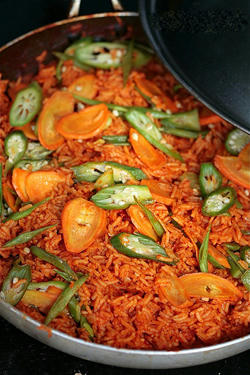 The quintessential ingredients to most of the Ghanaian cooking are Maggie cubes, rich tomato paste, scotch bonnet chillies and Maggie Arome seasoning. You have these and you know your dish is winner.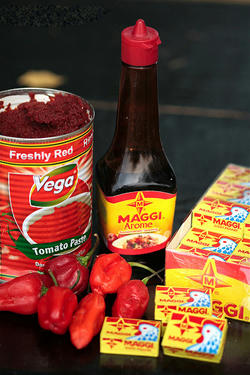 Joll Of Rice
1 & 3/4 cup basmati rice
4 tbsp olive oil
3 heaped tbsp tomato paste
1 red onion chopped
2 red onions
2 tomatoes
2 fat cloves of garlic
1″ piece of ginger
4 scotch bonnet chillies – reduce if you dont like it spicy
2 cubes of Maggie chicken cubes
2 carrots sliced diagonally
handful of french beans cut diagonally
7-8 okra's sliced diagonally
salt to taste
In a food processor, grind together the ginger, garlic, chillies, tomatoes and 2 onions. Keep aside for later. In a non stick frying pan heat the 4 tablespoons of olive oil and fry the chopped onion till soft then add the tomato paste and fry for further 3-4 minutes. Now add the blended tomato n onion mix and fry well. Crumble in the 2 Maggie cubes and mix well. Cover and let it cook through, till the oil floats on the top. Now add the rice and 2 cups of water, stirring it to make sure nothing is sticking to the bottom. In another frying pan, drizzle a few drops of olive oil and stir fry the beans, carrots and okra with a sprinkle of salt just till they are half done. Now add these to the rice, and by this time the rice will need some more water. Add 2 more cups of water, and cook till the water is almost evaporated. Now cover and simmer of slow gas till the rice is cooked through. 'Joll of' is now ready ! Children love this dish as its a great way to get some nutrition into their system.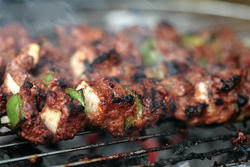 Beef Kebab – 4 skewers
200 gms Beef fillet, cut into cubes
3 Scotch Bonnet Chillies
3 fat cloves of garlic
2 tbsp grated ginger
1 n 1/2 red onion
1 chicken Maggie cube
2 tbsp of Maggie seasoning
2 tbsp olive oil
1 large green pepper cut in cubes
1 large red onion cut in cubes
In a food processor, grind together the chillies, ginger, garlic, onion, Maggie cube, seasoning and oil. Form a smooth paste and marinate the beef for at least 4 hours. Now thread these onto your metal skewers alternating with the peppers and onions. Grill on charcoal till the meat is tender n almost falling of the sticks. Serve with some Joll of Rice .