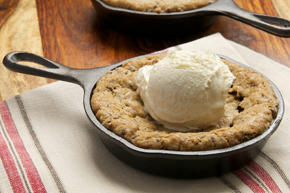 I don't know about you, but I never grow weary of good ol' chocolate chip cookies. There aren't many things much better than a freshly baked, warm, chocolate chip cookie. I've made my fair share of them over the years, and I'm sure there will be many more variations to come.
This particular chocolate chip cookie is a bit different in that it passes up the dough-scooping step and simply utilizes a cast-iron skillet to make a big, soft, gooey cookie. Without all the scooping, you'll have this cookie mixed and in the oven in short order.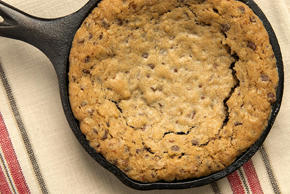 While you can certainly bake this cookie dough in a large skillet, I opted to use my mini 5-inch Lodge skillets to make smaller cookies. I can't help it. I'm a sucker for mini desserts! Each of these will serve two, so divvy it up before serving, or grab a friend and a couple of forks and just dig in.
I'll reiterate the soft and gooey comment from a few lines back. This cookie is designed to be eaten with a fork or spoon. It's a little softer than a traditional chocolate chip cookie. As the dough bakes in the skillet, the cookie may even collapse a bit onto itself.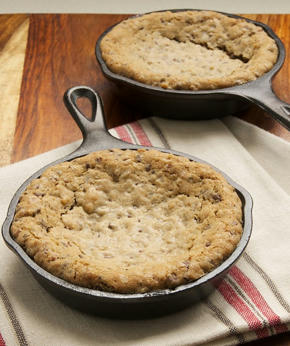 If you opt to make these in mini skillets, that little dip in the middle is just crying out for a scoop of ice cream. So, of course, that's just what I did. I went for a simple dollop of vanilla bean ice cream to top off these cookies. If you want to go all out, add some caramel sauce and maybe some extra chocolate chips or nuts. It will be like a little ice cream sundae on top of a warm cookie. Oh, my.
Just a little FYI… This recipe comes to us courtesy of Everyday Food, which has long been one of my favorite magazines. If you have an iPad, you can get a free (free!) subscription to the digital version. Or, you can read it (also for free!) online.
PR